He's making a list and checking it twice.............

The Jolly Old Elf will be visiting the residents of Dickson City on Saturday, December 21, starting at noon. Santa will be escorted by his elves from the DCFD. Be sure to keep a watchful eye for him in your neighborhood.
| | | |
| --- | --- | --- |
| | Thank You to everyone who helped fill our buckets at our 11th annual Black Friday coin drop. Your generosity is always appreciated. Also, a special Thank You to Texas Roadhouse of Dickson City for providing dinner for our members. The food was great! | |
11/21/13 The Officers and Members of the DCFD express our sincere condolences to the family, friends and colleagues of Factoryville Fire Dept. Asst. Chief Russell Gow. Russ died in the line of duty today at a structure fire in Factoryville, PA. A 43 year member of the Factoryville FD, Russ served in many capacities including Fire Chief.

Gone but not forgotten......

Click here to view WNEP-TV 16's video:

"The Death of a Firefighter"

Asst Chief Russell Gow
Rescue Assists Jefferson Twp.

~Frank Hughes~

November 23 - Rescue 23 was dispatched to assist Station 29 (Jefferson Twp) at mile marker 10 on Interstate 84 for a tractor trailer fire. The crew from rescue 23 assisted with fire suppression and overhaul, and operated on scene for approximately 2 hours.

~Jason Crambo~
| | | |
| --- | --- | --- |
| | Thank You to everyone who made our annual Gun Raffle another huge success. Once again, the event was a sellout. Click here for the list of winners. | |
Congratulations

CJ & Tiffany

October 5, 2013
Home Depot Safety Fair

October 05 - DCFD participated in the annual Home Depot Safety Fair to promote fire prevention and preparedness. Crews spoke with children and their parents about some ways to prevent fires in their homes, and what to do in case a fire does happen. Children were also able to learn about the equipment that we use and sit inside of the DCFD Rescue 23.
Members Earn Certifications
September 2013 - Over the past few months, members from DCFD spent many hours participating in Basic Vehicle Rescue, Sponsored by Bucks County Community College. We would like to congratulate the following members on passing their State Certification on Basic Vehicle Rescue: Tim Benford, Katie Chowanec, Corey Fabricatore, Marty Hrinko Jr., and Matt Horvath. The State test is comprised by the Penn. Dept. of Health in conjunction with the State Fire Commissioner. We would also like to congratulate Matt Horvath on completion of Fire Service Instructor, a curriculum set forth by the State Fire Commissioner's office. Matt has demonstrated competency in the knowledge of and the ability to conduct instruction from prepared lesson plans. Congratulations Members!
Engine runs car fire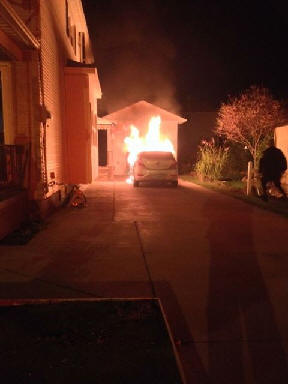 September 19 - (02:03) DC Firefighters along with Engine 22 and Rescue 27 were sent to the 1100 block of Olga Street for a working car fire next to a home. 23-9 arrived on scene and extinguished a good portion of the fire with a water can of Cold Fire. Engine 23 arrived on scene, finished extinguishment and checked the home for any extension. All other units were placed back in service. The fire is under investigation by the PA State Police.
| | | |
| --- | --- | --- |
| | Never Forget 9.11.01 | |
September 11 - Today was not only a day of remembrance, but a busy day for DCFD. At 7:41am crews were dispatched to 108 Eliza St for an automatic fire alarm. Shortly after, at 9:00am, members honored the 343 fallen FDNY Firefighters that were tragically killed in the line of duty at the World Trade Center twelve years ago by reading their names and displaying an American Flag with all the names on it. When Lackawanna County was put under a severe thunder storm warning, crews manned the station for eminent calls for assistance. Storm related incidents are as follows:

16:26 - 100 Viewmont Mall - Activated Fire Alarm
17:20 - 1127 Bank St - Flooded basement (Chief 23B on scene, no threats)
18:08 - 700 Keystone Industrial Park Rd (Throop) - Activated Fire Alarm
18:18 - 638 Grier St - Possible Structure Fire (wires sparking in the residence)
18:40 - 100 Viewmont Mall - Activated Fire Alarm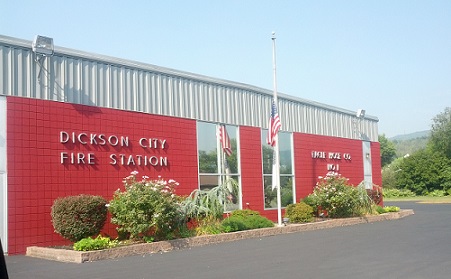 American Flag and FDNY American Flag lowered to half staff
Rescue runs MVA

September 9 - (12:55) Rescue 23 was dispatched along with Dickson City EMS to 360 Main St for a car into a building. Rescue 23 arrived on scene to find the pt in the hands of EMS. There was no fluids, debris, entrapment, or structural damage to the the building. Rescue 23 returned to service. The drivers blood glucose level dropped which caused the driver to loose control of the vehicle. Two other cars were also hit, and the passengers were not injured. ~Photos by Lenny Chesnaky
| | | |
| --- | --- | --- |
| 8/30/13 | The DCFD family would like to welcome | |
| | Madilyn Rose Perry ~ 6lbs 5oz | |
| | Congratulations Jason & Jackie | |
A big "Thank You" to the officers and members of the American Legion Riders Post 665 of Dickson City. The riders made a donation of $1,000.00 to the Hose Co. The fire station was the site of the Legion Riders recent Poker Run.

We are honored that you chose us to receive this donation.
Busy weekend for the DCFD
Although it was a rather quiet weekend, with only one emergency call to respond to, the DCFD was involved with many community activities.

The Hose Co. managed the Beverage stand at Dickson Days on Friday and Saturday night and also provided fire coverage for the fireworks display. On Saturday afternoon, the dept. participated in the Police Dept's "National Day Out" parade and festivities at the Bernard Seminski Park on Elm St. Our very own Dan Sosik, volunteered to get tased by a DC Police officer during a taser demonstration. Dan said he may think twice about volunteering again :)

On Sunday, the aerial ladder was on display during the "Big Truck Day", which benefits the National Inclusion Project, a non-profit organization that promotes getting children with disabilities involved in activities with non-disabled kids. The Ladder also made an appearance in the Throop Police Dept's "National Night Out Parade" to wrap up the weekend.

Click here http://wnep.com/2013/08/05/big-truck-day-benefit/ to view WNEP-TV coverage of the Big Truck Event. Photo's by Duane Young.
| | |
| --- | --- |
| As the cast of American Pickers were visiting with "Jackie Hollywood" from Staten Island, they came across a rear tail light from a 1959 Cadillac Ambulance and a brief shot of our 1959 Cadillac (on right) was shown during the episode. The episode aired on August 5th. | |
Structure Fire - S. Apple St - Dunmore
July 21 - (22:54) Rescue 23 was dispatched on the S.R.N. assignment as the R.I.T. (rapid intervention team) truck; to assist the Dunmore Fire Department with a working structure fire. While responding, the call was upgraded to a 2nd alarm assignment. Rescue 23 arrived on scene and set up as R.I.T. on side D of the structure. The DCFD crew stood-by while the rest of the crews operated, trying to extinguish the blaze. The incident was upgraded to a 3rd alarm to bring more manpower to the scene and to back-fill stations that were operating on the scene. The building was the original Dunmore High School, and was currently home to a doctors office, day care, and a medical records facility. DCFD operated on scene for approximately 4 hours. There were no injuries, and the fire is currently under investigation by PSP.
Shayne Young

Shayne Young

Shayne Young

Shayne Young

Scranton Times

For a larger size image, click on a photo above

For more photos, click here
Retired Ladder 23 heads to Pump Primers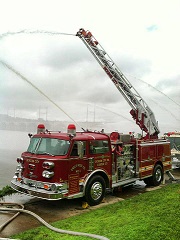 Member Jim Slocum III, who currently owns the retired 1981 American LaFrance Water Chief that served the borough for 27 years as Ladder 23 recently participated in the annual Pennsylvania Pump Primers in Harrisburg, PA. The event takes place along the banks of the Susquehanna River and brings antique fire apparatus enthusiasts from Eastern and Central PA together to preserve the heritage.
Firehouse gets new doors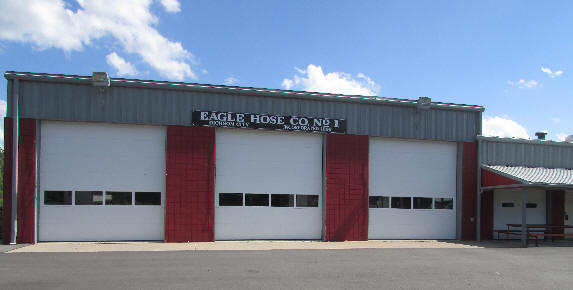 Thanks to a partial grant from the Office of the PA State Fire Commissioner and the many donations we receive during our annual fund drive, we were able to replace all of the overhead doors at the fire station back in May. This upgrade will surely help with our heating bills this coming fall and winter. The doors that were replaced were original to the building in 1979. Six - fourteen foot doors and two utility doors were replaced during this project.
Vehicle Fire at Ruby Tuesday's

June 27 - (16:00) Engine 23 was dispatched along with DCEMS to Ruby Tuesday's on Ravine St for a reported vehicle fire. While enroute, the Engine Co was advised that DCPD was on scene and reporting a working fire in the engine compartment. Crews arrived on scene and stretched the trash line to extinguish the fire. Crews operated for approximately 30 minutes.
DCFD regains "Ruler of Ribs" title

June 19 - Members from DCFD competed in the annual "Ruler of the Ribs" at Texas Roadhouse in Dickson City against employees from Texas Roadhouse. FF CJ Jaskulski and FF Willie Bilinski from DCFD regained the title for the company after last year's event, when the Olyphant Fire Department took the title.
1st Annual DCFD Clambake
click on image to view a larger size
June 1 - Members of the DCFD and their families took part in the 1st annual DCFD Clambake. The clambake replaced the annual installation dinner held every January. Members and their families were able to take part in a horseshoe tournament while the younger ones had a bounce house, wiffle ball game, and even a "water-curtain" used as a sprinkler. Later in the evening, members sat down to a dinner provided by Texas Roadhouse of Dickson City as well as clams from Southside Seafood of Scranton. After dinner, the following awards were presented: Firefighter of the Year for 2012: Carl Schick - Top Responders:

1.)

Jim Slocum III, 2.) Matt Horvath, 3.) Marty Hrinko Jr. 4.) Chris Kosydar

5.)

Rich Chowanec - 25 Years of service: Carl Schick & John Rama.
Blakely crash with entrapment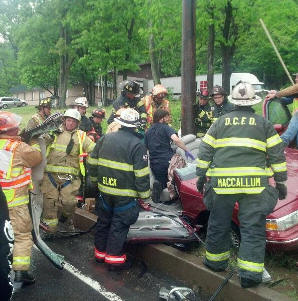 May 28 - (13:45) Rescue 23 was called to assist Blakely EMS & Rescue with a vehicle into a pole with entrapment on Route 6. There were four occupants in the car. All passengers had to be extricated by rescue personnel. The patients were transported to local hospitals.
Memorial Day 2013
May 27 - Members of Eagle Hose Co. and its Ladies Auxiliary participated in Dickson City's annual observance of Memorial Day. A parade was held from Fire Headquarters to the Borough Administration Building where the local DAV, VFW and American Legion conducted a service at the Veterans Monuments.
Rescue runs first alarm assignment in Blakely
May 27 - (04:35) Dickson City, Blakely, Peckville and Throop firefighters were summoned to the area of West Lackawanna Avenue for a person reporting that a house across the street was on fire. Blakely Police arrived in the area shortly after the initial dispatch and advised that there was a house on fire at 312 4th St. in Blakely, prompting the dispatch of a Blakely structure box. Fire crews arrived on scene to find a fully involved structure with moderate extension into a neighboring home. Rescue 23 arrived on scene and assisted with master stream duties on side A/D of the home of origin and assisted Ladder 20 with operations in the exposure home. The Rescue was on scene for approximately two hours. There were no injuries on scene and the fire is under investigation.
Blue Mass honors Emergency Services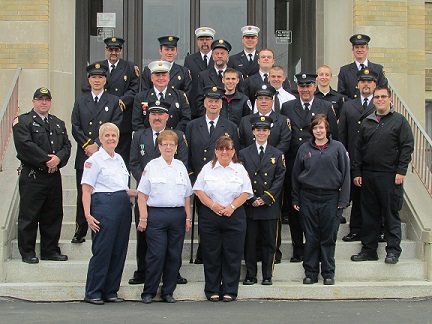 May 19 - Members from Eagle Hose Company, Dickson City Community Ambulance, Volunteer Hose Company # 3 of Throop, Wilson Fire Company of Peckville as well as the Eagle Hose Company Ladies Auxiliary and State Corrections Officers once again participated in the annual Blue Mass held at the Visitation of the Blessed Virgin Mary Church in Dickson City.
Basic Vehicle Rescue (Awareness)
Photos from the BVRA class that was held at DCFD Headquarters. Special thanks to instructors Jim Kuzmak and Joe Marconi.
To see a larger image, click on the picture above.
Fire displaces Throop residents
May 6 - (03:10) Dickson City Firefighters assisted the Throop Fire Dept and other mutual aid dept's at a working fire on Sanderson St. All residents had escaped the flames prior to the FD's arrival. Ladder 23 assisted with truck work throughout the structure. The Ladder was on scene till 04:45. The cause of the fire is under investigation by the PA State Police Fire Marshal.

photo is from scrantontimes.com
Vehicle fire with exposures & a vehicle over a ledge
May 3- (17:00) Rescue 23 and DCEMS were sent to Grier St at the Lackawanna county housing complex for a vehicle that drove over a barrier, and a male patient was laying on the ground outside the vehicle. Crews arrived to find the driver self-extricated and non-injured. The car was unoccupied during the time of the accident. The Rescue company was on scene for approximately 30 minutes.

May 3 - (13:00) Engine 23 was requested to assist Throop Fire Department with a multiple vehicle/brush fire. Chief 27 arrived on scene and reported two vehicles on fire, with exposure problems to a trailer and also barrels with unknown contents. Ladder & Rescue 27 arrived on scene and handled fire suppression. Engine 23 arrived on scene and supplied tank water to Rescue 27 and also completed overhaul operations. Crews were on scene for approximately 1 hour.
Ladder works dwelling fire in S. Abington Twp.

May 1 - (11:20) Ladder 23 was dispatched on the S.R.N assignment to assist Chinchilla Hose Company (Station 2) at 620 Layton Road with a working structure fire. While responding, ladder 23 was assigned to conduct a primary search and ventilation on division 2. The ladder arrived on scene, and was reassigned. The crew was split and overhaul was completed in the attic as well as the garage area by the two teams. There were no injuries on scene. Chief 2 (J. Waters) had command. The ladder operated on scene for approximately 2 hours.
Vehicle fire at Perkins

April 26 - (16:02) Dickson City Firefighters were called to the Perkins Family Restaurant on Ravine St for a reported vehicle fire. Prior to calling enroute, Engine 23 crews were advised that DCPD was on scene reporting a working fire in the engine compartment. Crews arrived on scene and extinguished the fire using tank water. Crews were on scene for approximately 30 minutes.
| | |
| --- | --- |
| | April 23 - Dickson City Fire Department would like to congratulate member Charles (CJ) Jaskulski on his appointment at Kingston Fire Department as a Firefighter/Paramedic. CJ has been a member of DCFD for 9 years, starting as a junior member, and working his way up to earning his FFI, EMT, and NREMT-P. CJ has worked at Community Life Support as well as Geisinger CMC as a paramedic. We wish CJ all the best in his new career. |
2013 Fund Drive is underway

April 10 - Our 2013 Fund Drive is now underway. Fund drive packets were mailed to Dickson City residents and business' this week. If you did not receive one in the mail, contact the fire station at 383-0923. Please support your Volunteers!
Ladder assists Throop

April 4 - (02:35) Ladder 23 was dispatched along with the Throop fire department and Dunmore Rescue 6 to 7E Memorial Dr in Throop for a reported house fire with entrapment. While the ladder was responding, first arriving companies conducted a primary search and were able to locate and rescue the victim. The victim was transferred to EMS and transported to a local hospital. Ladder 23 arrived on scene and performed the truck company duties of ventilation and overhaul. DCFD was on the scene for approximately one hour. PSP Fire Marshall ruled the fire arson and the victim is in critical condition at Leigh Valley Hospital.
Working Structure Fire - 626 Laybourne St

March 25 - (14:47) Dickson City Firefighters, Throop Rescue 27, and Blakely Engine 22 were sent to 626 Laybourne St. for a possible structure fire. Lt Homenchak marked enroute with Car 23 and was advised that the 911 Center was receiving multiple calls about smoke coming from the home. The SRN was activated, bringing Olyphant Rescue 26 as RIT and Peckville Ladder 20 to the scene. Lt Homenchak arrived on scene and reported a working fire in a 2-1/2 story residence with all occupants out of the structure. Justus, Scott Twp, and Archbald Tankers were put on stand-by due to the location of the home. Ladder 23 arrived on scene and established its own water supply and went to work performing truck and engine company duties. Crews were faced with a fire in the walls surrounding the fireplace and chimney on divisions 1, 2 and in the attic area. Engine 23 supplied manpower to the ladder crew which was short-staffed. Rescue 26 stretched a back-up 1-3/4" handline to assist with fire suppression and Engine 22 was assigned to RIT. Rescue 23 personnel were put in staging and later completed overhaul operations with the assistance of Ladder 20. Crews were on scene for approximately 3-1/2 hours. Chief Chowanec and Lt Homenchak had command.

Companies on scene: DCFD, DCEMS, DCPD, R-26, E-22, L-20, Ambulance 2-8

~Photos courtesy of DCPD Chief Bilinski, and DCEMS member Britney Haefele~
Vehicle rollover

March 23 - (10:00) Rescue and EMS were dispatched to Community Bank & Trust for a vehicle on its roof leaking fuel. The original dispatch sent crews to the 1600 block of Main Street but it was quickly determined that the incident was located behind the First National Community Bank in the 900 block of Main. Emergency personnel arrived on scene to find a pick up truck overturned near a creek bed with the sole occupant still inside. The Rescue 23 crew stabilized the vehicle and removed the driver through the passenger side door. The driver was transported to a local hospital with minor injuries. 23-9, LA-ALS and Ladder 23 were also on scene.
Car hits Allied Skilled Rehab building

March 21 - (15:56) Rescue 23 and 23 EMS were dispatched to 235 Main Street at the Allied Skilled Rehab Center for a van that had stuck the building with reported injuries. Rescue 23 arrived on scene to find one vehicle into the structure with structural damage. EMS crews were beginning to extricate the patient through the rear handicap exit. Crews stabilized the vehicle and built a ramp out of cribbing for the patient to drive his motorized wheelchair down. The driver was transported to a local hospital with non-life threatening injuries.
Car fire on 2nd Ave.

March 5 - Dickson City Firefighters were sent to 102 Second Ave. for a reported car fire that was next to the residence. Due to the exposure problems, the full structure box was dispatched. Chief 23 arrived on scene assuming command, reporting a fully involved car fire with no exposure problems and returned the out-of-town companies. Engine 23 arrived on scene and extinguished the fire. Crews were on scene for approx. 30 minutes. ~Photos by Erin Lukasik~
Ladder heads to Throop

February 11 - Ladder 23 was dispatched on a first alarm assignment with the Throop Fire Department to the 700 blk of Dunmore Street for a reported structure fire. Chief 27 arrived on scene and confirmed a working structure fire in the attached garage and requested the S.R.N. be dispatched. Ladder 23 arrived on scene and went to work performing truck company duties. Crews from DCFD vented the roof of the garage and assisted in overhaul operations. Ladder 23 remained on scene for approx. 2 hrs. Photos by FF Lenny Chesnaky
Engine Co runs another car fire

February 4 - Dickson City Fire Department was sent to the 800 block of Main Street for a reported vehicle on fire that was on a rollback. Engine 23 arrived on scene to find a sole vehicle with a fully involved engine compartment fire. Crews extinguished the fire with the "trash line" and returned to service.
3 car crash, 2 cars on fire......same incident

February 2 - Dickson City Firefighters were sent to the Scr/Carb Hwy in front of Denny's for a reported vehicle fire. After dispatch, communications advised that it was now a reported three car crash with one vehicle on fire. While Engine 23 was enroute, they were given additional information that they was now two vehicle on fire with one rolling down the highway. The vehicle that decided to add additional excitement to the call was successfully secured by the Dickson City Police Department. The Engine arrived on scene and extinguished both vehicles with tank water and a dry chem extinguisher. Ladder 23 was placed on stand-by, but was later returned to service.
2012 year in review
Click on the YouTube logo above to see DCFD's 2012 Year In Review Video