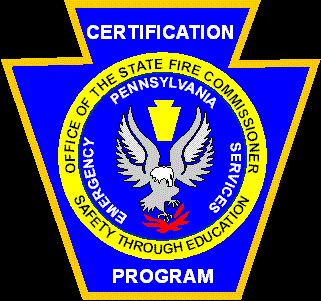 Run Statistics

2014 calls - 365

2015

Jan
22
Feb
29
Mar
26
Apr
May
Jun
Jul
Aug
Sep
Oct
Nov
Dec
Total
077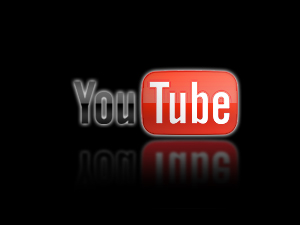 Click on the link aboe to see our 2014 video
Total Site Visits Since January 5, 2014
Latest Incident:

Incident #

Date

Location

Type

15-077

March 26

MV Elementary

possible electrical fire
Annual Easter Egg Hunt sponsored by American Legion post 665 of Dickson City will be held at the fire station on Saturday, March 28th starting at 11am
50 years of service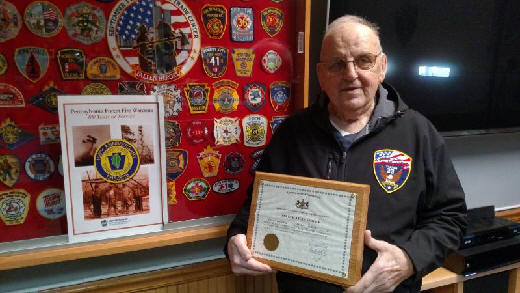 Eagle Hose Co. No. 1 life member Vince Lorent has been honored by the State of Pennsylvania for his 50 years of faithful service as a Forest Fire Warden. Vince received his award at a recent dinner in Hughestown, PA. The Pennsylvania Forest Fire Wardens are celebrating their 100th Anniversary this year. Congratulations Vince!
Crash with entrapment

March 21 - (16:10) The Rescue and Engine were dispatched to the parking lot of Genetti Manor on Main St. for a vehicle crash. A vehicle struck a light standard and flipped on its side. The driver was assisted out of the vehicle by bystanders prior to our arrival. The passenger of the SUV had to be extricated by DCFD personnel. There were no other occupants or vehicles involved and the cause of the crash is under investigation by the DC Police Dept.
Ladder responds to Luzerne County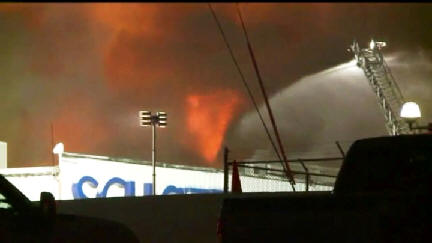 photo from Pittston Twp FD
March 3 - (17:05) Ladder 23 was requested on a 2nd alarm to assist the Duryea Fire Department with a structure fire at Schott Glass. The Ladder assisted with aerial operations and was on scene till after midnight. The commercial building suffered extensive damage as a result of the multiple alarm fire.
2/26/15 - The membership of Eagle Hose Co. No. 1 sadly announces the passing of Life Member Richard "Dick" Mellow. Dick was our oldest living member - joining the department on April 3,1944. Our sincere condolences to his family and friends. Click here for obituary link.
Help us help you
Please keep your neighborhood fire hydrants clear of snow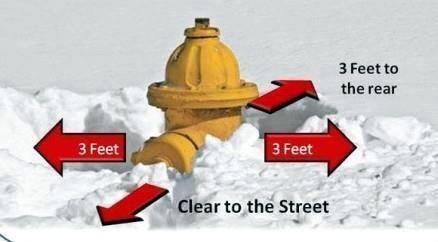 Engine relocates to Moscow

Bell Mountain Fire

February 13 (15:50) - DCFD first alarm companies were sent to Lewis St. in the Bell Mountain section of Dickson City for the report of a trailer on fire. Command Car and Ladder 23 were on the road within minutes and received reports of a possible furnace malfunction. Crews arrived on scene to find a heavy smoke condition with a working fire in the kitchen area. The sole occupant was out of the home and staying warm at a neighbors house. Ladder 23 stretched a hand line, knocked the fire down, ventilated and performed overhaul with the help of Rescue 27. Engine 23 laid a supply line to the Ladder and assisted with overhaul while Engine 22 staged at the hydrant. The cause of the fire is under investigation by the PSP Fire Marshal.
Poplar St. kitchen fire

February 12 (17:56) - The DCFD along with Throop Rescue 27, Blakely Engine 22 and DC EMS were sent to 224 Poplar St for a reported fire in the kitchen. Car 23 arrived on scene to find a moderate smoke condition with fire showing in the kitchen and the homeowner standing in the front yard. Ladder 23 established a water supply, advanced a handline into the first floor and quickly extinguished the fire while Rescue 27 crews ventilated and controlled the utilities. Engine 23's crew checked the 2nd floor and attic for extension and Engine 22's personnel staged - ready for service. Fire damage was contained to the kitchen. All units returned home by 19:30.
2015 Installation of Officers Dinner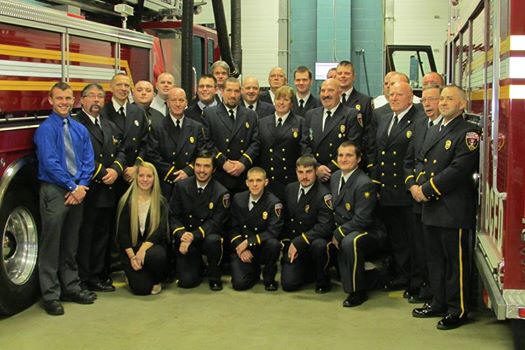 January 31 - The annual installation of officers dinner for the Dickson City Fire Dept and DC Community Ambulance was held at our banquet hall. Fiorelli's of Peckville catered an excellent meal while Sarah Marie and Joseph provided the entertainment. FD Chaplain Msgr. Pratico offered the prayers for the evening and State Rep. Sid Michaels Kavulich was the guest speaker. Firefighter Jason Perry was honored as Firefighter of the Year for 2014 and the following members were the top responders for last year: Rich Chowanec, Frank J. Mazur, Eddie Kalinowski Jr, John Wallo and Matt Horvath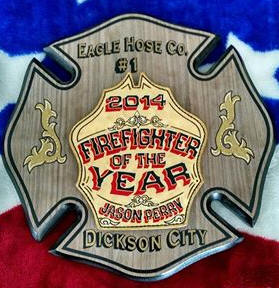 Firefighter of the Year award hand painted by Firefighter Will Bilinski
Car lands on porch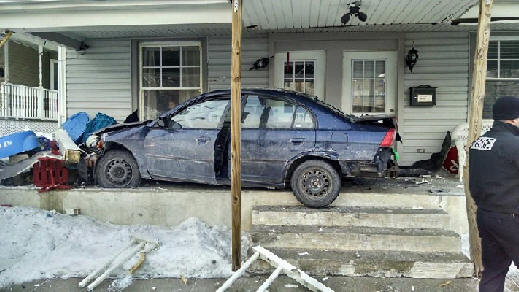 January 31 - (08:20) The Rescue was sent to the 400 block of Main St. for a one-vehicle crash where the vehicle ended up on a front porch. There were no injuries on scene. The cause of the crash is being investigated by the Dickson City Police.
| | | |
| --- | --- | --- |
| | 1/29/2015 - Congratulations to Dave and Sara Edwards on the birth of their daughter, Emma. Welcome to the DCFD family! | |
Fire on the Boulevard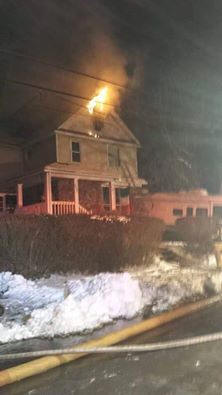 ~ photo provided by Corporal Chesnaky ~
January 25 - (02:25) The DCFD assisted the Throop Fire Dept. with a structure fire on Boulevard Ave. Crews arrived on scene to find a moderate smoke condition with fire showing on the interior of the first and second floors. As conditions deteriorated, a second alarm was requested by 27 Fire Chief Hegedus. Dickson City personnel were on scene till 5 am. A PSP Fire Marshal ruled the fire accidental, caused by a blocked wood stove's chimney.
| | | |
| --- | --- | --- |
| | 1/22/2015 - Congratulations to Firefighter Travis Groover and his girlfriend Brianna Kohut on the birth of their son, Gannon. Welcome to the DCFD family! | |
| | |
| --- | --- |
| | January 4 - The DCFD received two new QRAE II four-gas meters with confined space kits. The meters will monitor Carbon Monoxide (CO), Oxygen Levels, Hydrogen Sulfide (H2S) and Combustible Gas (LEL) . The QRAE II meters replace a Scott Scout four-gas meter that we utilized for many years. Also purchased was a ToxiRAE single-gas meter that will measure Hydrogen Cyanide (HCN) levels. HCN is an extremely dangerous and common by-product of combustion that is found in smoke. The HCN meter will be utilized during overhaul operations at structure fires to ensure the safety of personnel working in these conditions. |
Message from Eagle Hose Co. No. 1
We have been receiving many compliments for the Shelesky Family benefit pasta dinner that was held at our banquet hall this past Sunday. The Eagle Hose Co. No. 1 cannot take credit for this event. The dinner and raffle was coordinated and ran by family and friends of the Shelesky family. These are the ones who should be receiving the compliments for this wonderful event. Our thoughts, well wishes and prayers go out to the Shelesky family during this Christmas season. We also remember other borough families who lost their homes and loved ones to fires and other tragedies. May everyone have a safe 2015.
Chooch gets message from Santa
Chief Chowanec receives message from the North Pole. Click here to view the video.
3 alarm fire in Covington Twp.
December 18 - (12:00) Ladder 23 was requested as part of a second alarm to assist the Covington Twp. Fire Department with a working fire at Legg's Garage on Route 435 in Covington. The Ladder crew assisted with an aerial master stream and overhaul operations. A third alarm was dispatched not long after the Ladder arrived on scene. The DCFD remained on scene till after 2pm.

photos provided by Rich Barbolish
Firefighters battle stubborn blaze
December 17 - (12:35) Dickson City Firefighters and EMS were dispatched to a working structure fire in the 1000 block of Carmalt St. Chief Chowanec was enroute within a minute and requested the SRN when he saw the heavy smoke condition as he left the station. Multiple interior attempts were made to extinguish the fire but were eventually switched to a defensive mode due to the stubborn fire conditions. Eventually head-way was made and firefighters were able to re-enter the structure and extinguish the remaining fire. Unfortunately, the home is a total loss and both adjoining homes suffered heat damage. Personnel operated on scene until after 5pm. Dickson City crews were assisted by firefighters from Blakely, Throop, Peckville, Olyphant, Eynon and Chinchilla.
The DCFD family supports Madi's Wish

Madi is the daughter of DCFD Firefighter/EMT Jason Perry and his fiancé Jackie Vaicekauskas. Madi has been diagnosed with a rare, aggressive neurological disease called GM1 Gangliosidosis. Many local fundraising events have been set up to assist with medical expenses and are listed on the Madi's Wish page on facebook. Click the Madi's Wish logo to view the facebook page.

If you wish to send a monetary donation to help defray the costs of medical expenses, they can be sent to:

Eagle Hose Co. No. 1

c/o Madi's Wish

1 Eagle Lane

Dickson City, PA 18519

checks can be made payable to Madi's Wish
Rapid Intervention Team (RIT) assignments

Thanksgiving - Maple Ave, Clarks Summit, structure fire.
December 4 - Smith St, Dunmore, deadly home explosion. Photo by The Scranton Times
To everyone who helped fill our buckets during our Black Friday coin drop, we thank you. We also thank the Viewmont Mall, who allows us to have the coin drop on their property and The Texas Roadhouse who provided lunch for our members. Your generosity is greatly appreciated.
A huge THANK YOU to everyone who supported our annual gun raffle
click here for a list of winners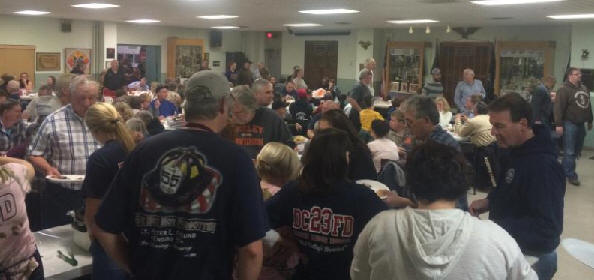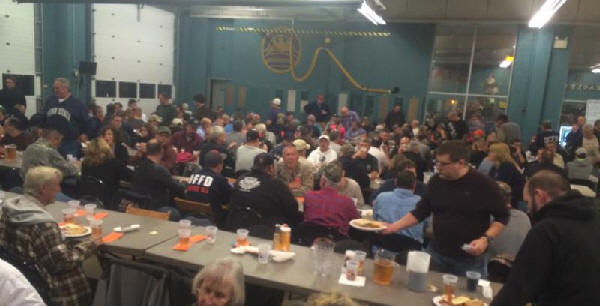 Click here to find out if you're taking the right steps to protect your family.
Home Depot Safety Fair

October 25 - The Dickson City Fire Dept, Dickson City EMS, Commonwealth Health EMS, and The Wilson Fire Co. of Peckville participated in Home Depot's annual safety fair. Fire and EMS vehicles were on display, children were given safety packets and Halloween treats while visiting different stations in the store. Wilson Fire Co.'s fire safety house was up and running teaching kids and adults what to do in case of a fire in their home. The afternoon was topped off when Commonwealth One landed in the parking lot and provided everyone with an up-close look at the medical helicopter and learned about its usefulness to our area.

Special thanks to The Home Depot, Commonwealth Health and Wilson Fire Co. for your participation
Dickson City Veterans Parade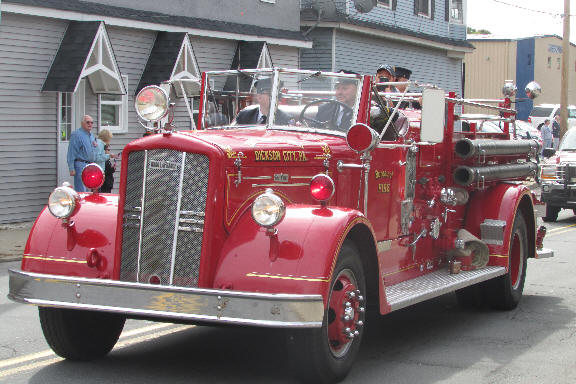 October 11 - Members of the DCFD participated in a parade that honored Dickson City natives Lt. General Francis J. Wiercinski (USA Ret.) Major General Michael J. Terry (USA Ret.) and all Dickson City veterans. The parade started on Boulevard Ave. and proceeded down Main St. to Eagle Lane for a ceremony in front of the new Borough Administration Building. The DCFD proudly salutes all of our vets.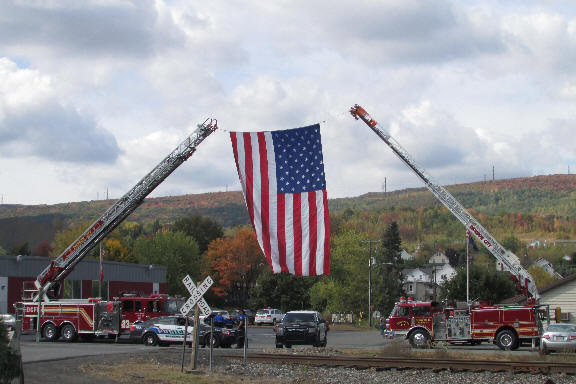 Fire Prevention at LaSalle Academy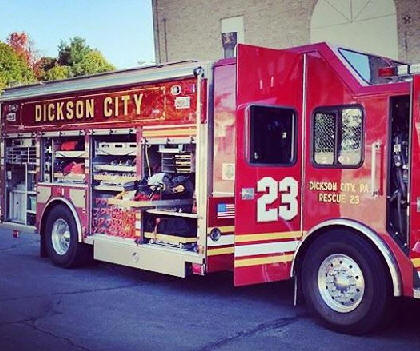 October 9 - The DCFD conducted a fire prevention program at LaSalle Academy's Dickson City Campus. Firefighters talked to children about fire safety and provided tours of apparatus.
PSP STRONG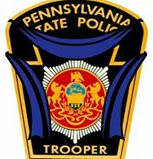 Our thoughts and prayers to the families, fellow Troopers and friends of Cpl. Bryon Dickson and Trooper Alex T. Douglass. Cpl. Dickson was shot and killed in the line of duty and Trooper Douglass was shot and critically injured in the line of duty at the Blooming Grove Barracks in PA.
September 7 - Msgr. Patrick Pratico and the Parishioners of the Visitation of the Blessed Virgin Mary Church honored all Mid Valley area first responders at their annual Blue Mass. Pictured above are representatives from the following departments who attended the Mass: Eagle Hose Co. No. 1 and its Ladies Auxiliary, Blakely Hose Co. No. 2, Wilson Fire Co. of Peckville, Throop Volunteer Hose Co. No.3 and State Dept of Corrections personnel.
| | |
| --- | --- |
| | |
| | |
Click on the photo to see a larger image
September 6 - Members from the DCFD along with the Black Diamond Bag Pipe Band headed to Honesdale for the 84th annual Northeastern Pennsylvania Volunteer Fireman's Federation Convention. Members spent many hours preparing the trucks for the parade. DCFD received four awards at the parade: Best Appearing Heavy Rescue Company, Largest Uniformed Company in Line of March, Best Appearing Uniformed Company with Music and a newly added award in honor of Mark Coons for Best Appearing Company Overall. Our sincerest "Thank You" to Jessup Hose Co. No. 2 and the Eynon Fire Dept for providing emergency coverage for Dickson City while we attended the convention in Honesdale.
Multi-Vehicle Crash - Scr/Carb Hwy
| | |
| --- | --- |
| | photos by Skippermedia Productions |
August 29 - (19:09) Rescue and Engine 23 crews were sent to the Scranton-Carbondale Hwy in front of McCann School of Business for a multi-vehicle crash. Three vehicles were involved with all occupants out of the vehicles upon arrival. EMS crews from Blakely and Chinchilla assisted DC EMS and ALS units with patient transport to local hospitals. The Rescue and Engine remained on scene until 20:45 assisting the DCPD and PA State Police with traffic control and lighting while they investigated the cause of the crash.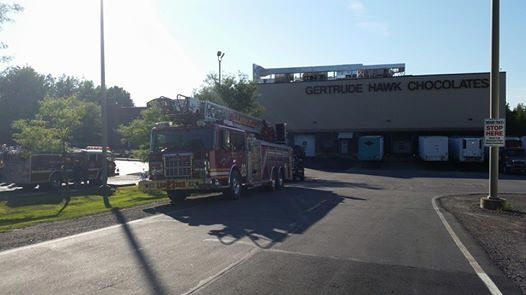 August 26 - Members of the DCFD along with Throop Rescue and Ladder personnel conducted a walk thru tour/pre-plan of the Gertrude Hawk facility in Throop.
Lil' Turtles Structure Fire, Blakely PA
July 26 - (23:00) Rescue 23 assisted other first alarm and SRN companies with a working structure fire at Lil' Turtles on Main St. in Blakely. The rescue arrived on scene and split crews with interior and roof truck operations. The rescue operated on scene for about 2 hours. The cause of the fire is under investigation by the PSP Fire Marshal.
Rescue & Engine run crash
July 19 - Rescue & Engine 23 were sent to Main St. near the intersection with Viewmont Drive for a vehicle that struck a porch and ended up on its side. The lone occupant of the vehicle had to be extricated from the wreckage by DCFD personnel. The crash is under investigation by the Dickson City Police.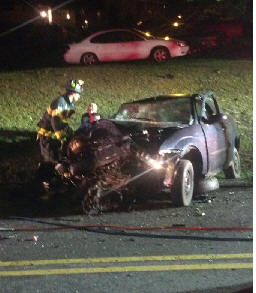 July 4 - (00:52) Rescue 23 was dispatched for a vehicle crash on Dundaff St. near the intersection with Pancoast St. DC Police arrived on scene and requested ALS to expedite. Captain 23 arrived and reported that the driver was out of the vehicle but the passenger was still trapped inside. Rescue crews removed the front passenger door, flapped the "B" post and rear passenger door to access the passenger. Both occupants were transported to Geisinger CMC.
Ladder assists the Queen City
photo is from scrantontimes.com
July 3 - (19:30) Ladder 23 assisted the Olyphant Fire Dept. with a working structure fire on E. Elm St. in Olyphant. Initial reports indicated that a young child was still in the structure. Ladder 23 was tasked with primary searches on the second floor, provided roof ventilation and assisted with overhaul throughout the home. The young child that was feared to be in the structure was accounted for and was not home at the time of the fire. The Ladder crew operated for approximately two hours.
DCFD receives pet oxygen mask kit
| | |
| --- | --- |
| The DCFD received a pet oxygen mask kit thanks to a 13 year old boy in Hanover Township, Luzerne County. Jakub Mims raised hundreds of dollars to pay for oxygen masks for cats and dogs that are rescued from fires. Each kit contains oxygen masks in three sizes, as well as a leash. The kits were distributed to emergency services in six counties. We thank Jakub for his initiative and dedication to complete a project like this. The kit has been placed on Ladder 23. | |
Rope Rescue Drill - 6/5/2014
Confined Space Rescue Training - 5/15/14
Dwelling Fire - 654 Morgan Street
May 14 - (10:28) Station 23, Rescue 27, Engine 22, and DCEMS were dispatched to the 600 block of Morgan street for a reported dwelling fire. Chief Chowanec arrived on scene and confirmed a working structure fire, and requested the S.R.N. be dispatched, bringing Rescue 26 and Ladder 20 to the scene. Chief Chowanec advised Comm Center of a possible exposure problem and requested an extra engine company and ladder company to the scene. Ladder 23 laid their own supply line, and stretched multiple attack lines for a defensive operation. Engine 23 crews arrived on the scene and assisted in fire suppression. Crews operated for about 30 minutes to control the fire. Extensive overhaul was completed to find any hidden hotspots. In all, crews operated for approximately 3 hours on the scene. The fire is under investigation by the PSP Fire Marshal.
April 22 (17:46) - Railroad bridge fire
April 1 (20:26) - SUV on fire at the intersection of Ravine St. & Scranton/Carbondale Hwy.
| | |
| --- | --- |
| Congratulations and Best Wishes to Lt. Dan Sosik on your appointment to the Wilkes-Barre City Fire Department | |
| | |
| --- | --- |
| February 16 | Building Collapse |
05:09 - Firefighters were dispatched to Mei Mei Chinese Restaurant at Dickson Corners for a possible building collapse. Crews arrived on scene to find a major portion of the roof collapsed on the three story structure and the side walls beginning to bulge out. Borough officials, code enforcement and engineering personnel were notified and a decision was made to have the building demolished due to the instability of the structure. Fire and EMS personnel remained on scene throughout the morning and into the early afternoon.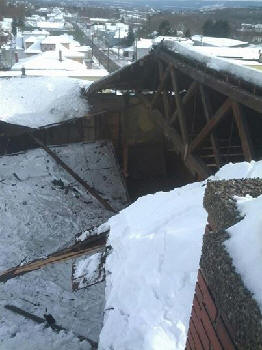 roof collapse view looking east towards Blakely
| | |
| --- | --- |
| February 15 | Installation of Officers Banquet |
Saturday evening, members of Eagle Hose Co. No. 1 and Dickson City Community Ambulance gathered at the fire station for the 2014 Installation of Officers Banquet. Joining the first responders were Borough Officials, Fire Dept Chaplain Msgr. Pratico and guest speaker Atty. Frank Marcin. A delicious buffet style meal was provided by Fiorelli's Catering. Officers of both organizations took their oath of office for 2014. Top responder awards for the fire dept. were presented to John Wallo, Chris Kosydar, Rich Chowanec, Marty Hrinko Jr, Matt Horvath and Jim Slocum III. The award for Firefighter of the Year for 2013 was presented to Life Member Andy Zewe. Congratulations, Andy!
| | |
| --- | --- |
| January 7, 2014 | Rescue keepin' busy |
On Thursday afternoon, January 16, Rescue 23 was dispatched as the FAST truck to assist the Dunmore Fire Dept. with a working structure fire on Mortimer St. The rescue operated on scene for a few hours. Early Friday morning, January 17, the Rescue was sent to Dundaff St. for a vehicle rollover with reported entrapment. The sole occupant of the vehicle was self extricated prior to the Rescue's arrival.
| | |
| --- | --- |
| January 5, 2014 | Best wishes to FF Randy Troiani |
The members of the DCFD offer our best wishes to FF Randy Troiani as he reports to the Pennsylvania State Police Academy today. Congratulations, Randy!

January 1, 2014
As another busy year for the Dickson City Fire Department comes to a close, members elected the following officers for 2014 at a monthly meeting in December.
Administrative

President
Thomas Homenchak
Vice-President
Shayne C. Young
Treasurer
Robert F. MacCallum
Recording Secretary
William Bilinski Jr.
Financial Secretary
Frank Mazur
Trustee
John Chmielewski
Trustee
Charles Edwards
Trustee
Jim Slocum Jr.
Trustee
Michael Yanick
Trustee
Andrew Zewe

Operational

Fire Chief
Joseph D. Chowanec Jr.
1st Assistant Chief
Matthew J. Horvath
2nd Assistant Chief
Richard Chowanec
Captain
John Wallo
1st Lieutenant
Edward Kalinowski
2nd Lieutenant
Shayne C. Young
3rd Lieutenant
Thomas Homenchak
4th Lieutenant
Daniel Sosik
Chief Engineer
James Slocum III
Assistant Engineer
Chris Kosydar
Assistant Engineer
John Chmielewski
Assistant Engineer
Jason Perry
Fire Police Captain
William Leggat
January 1, 2014 With the new year, comes a new look!
Please bare with us as we are undergoing some construction. Feel free to contact us by email of any bugs that you may encounter and we will do our best to handle them.